The European Beach Ultimate Club Championships 2022 started with a bang! An impressive 98 matches were played today between 56 teams from all around Europe, split into 3 divisions (Open, Women's, and Mixed) and within those divisions, 4 pools each. Forecast for the day and the rest of the championship weekend? Sun, sun, and more sun. And wind? Never heard of it. So with little wind and perfect beach conditions, the competitors' skills with the disc and their athleticism were on full display.
OPEN DIVISION
Starting with the men's Open division, boy (pun intended), were there more than a handful of incredible matches. Early on in the day saw Discobolo (ITA) faceoff against Krakens (ESP) in Pool C. The competition was fierce and the intensity was sky-high. There were so many layouts you would have thought the EBUCC organizers decided to turn off gravity for the day. The teams were neck-in-neck until Discobolo was able to find the light in the final minutes and pull ahead for the 10-8 victory.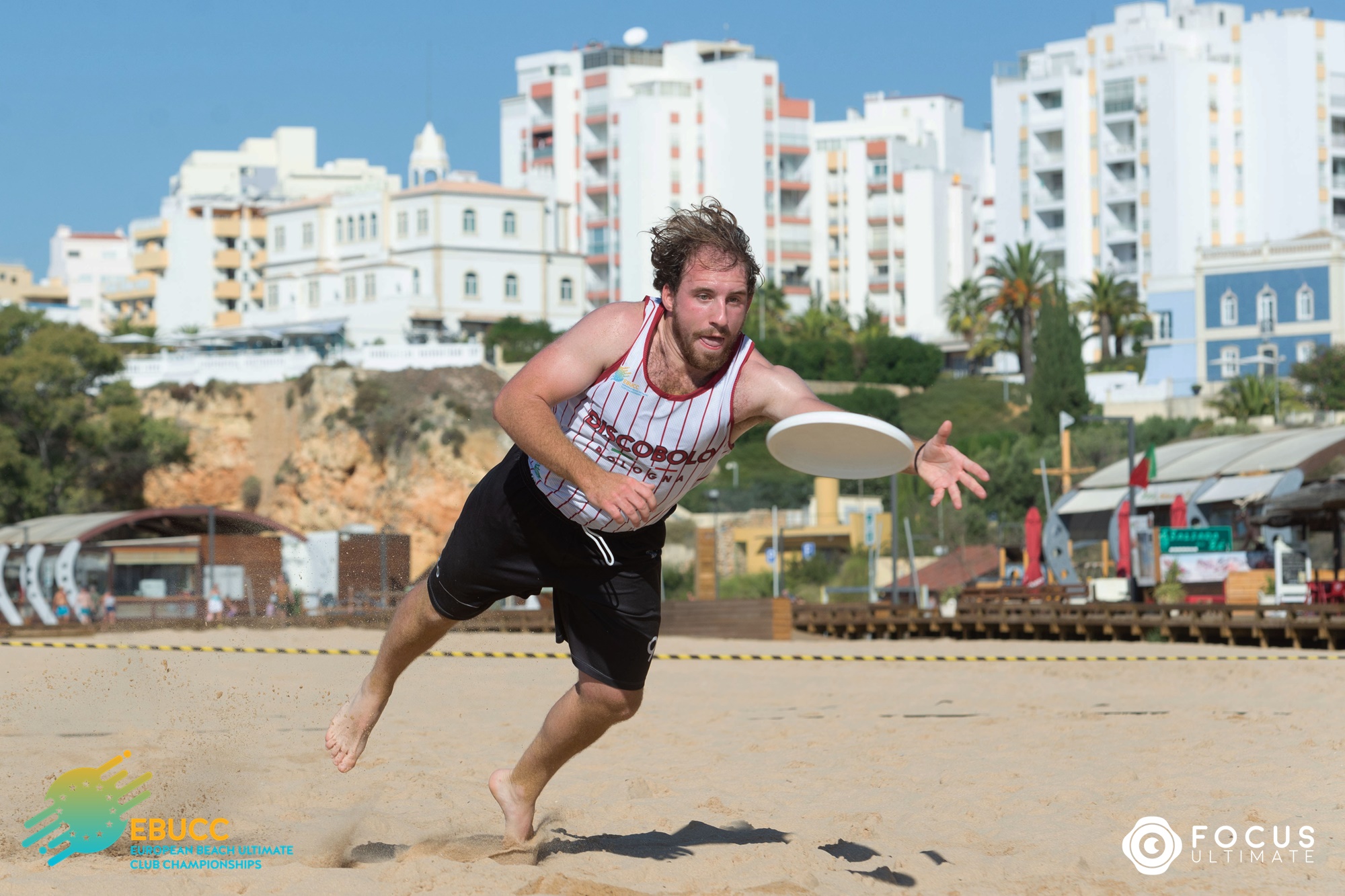 From Pool B was Murcielagos (ESP), flexing their expert handler movement and perfectly timed cuts to take convincing wins over MrFiz (FRA)13-6 and Odin (SWE) 13-3. However, Disc'Over Lisboa (PRT) was a different story. Another back-and-forth match saw these two teams giving it everything they had with tight man-on-man defense, gratuitous layouts, and finally, bringing it all way down to universe point. In the end, Murcielagos cashed in the victory with textbook play, taking the match against Disc'Over Lisboa 12-11.
Representatives from Pool A, Sandjob (IRL), also came to play. They cleaned house today, taking victories over the likes of Saxy Divers (DEU) 13-10, Solebang (CHE) 13-9, and Gambozinos (PRT) 13-8.
WOMEN'S DIVISION
The Women's division was no slouch either. All the ladies played gritty, lockdown defense and elegant, tactical offense. A tournament favorite to be on the lookout for, YAKA (FRA), took to the fields to display their strength. In a drawn-out match between Cremas (ESP), the ladies put their reputations on the line, fighting tooth and nail for the tough victory over Cremas 10-6. But, in their faceoff against SUFC Valkyria (SWE), YAKA wasn't so lucky. It was another universe point affair in which the Valkyries showed toughness, maintaining a lead over YAKA throughout the entire match by playing smart, patient offense. They edged out YAKA 10-9.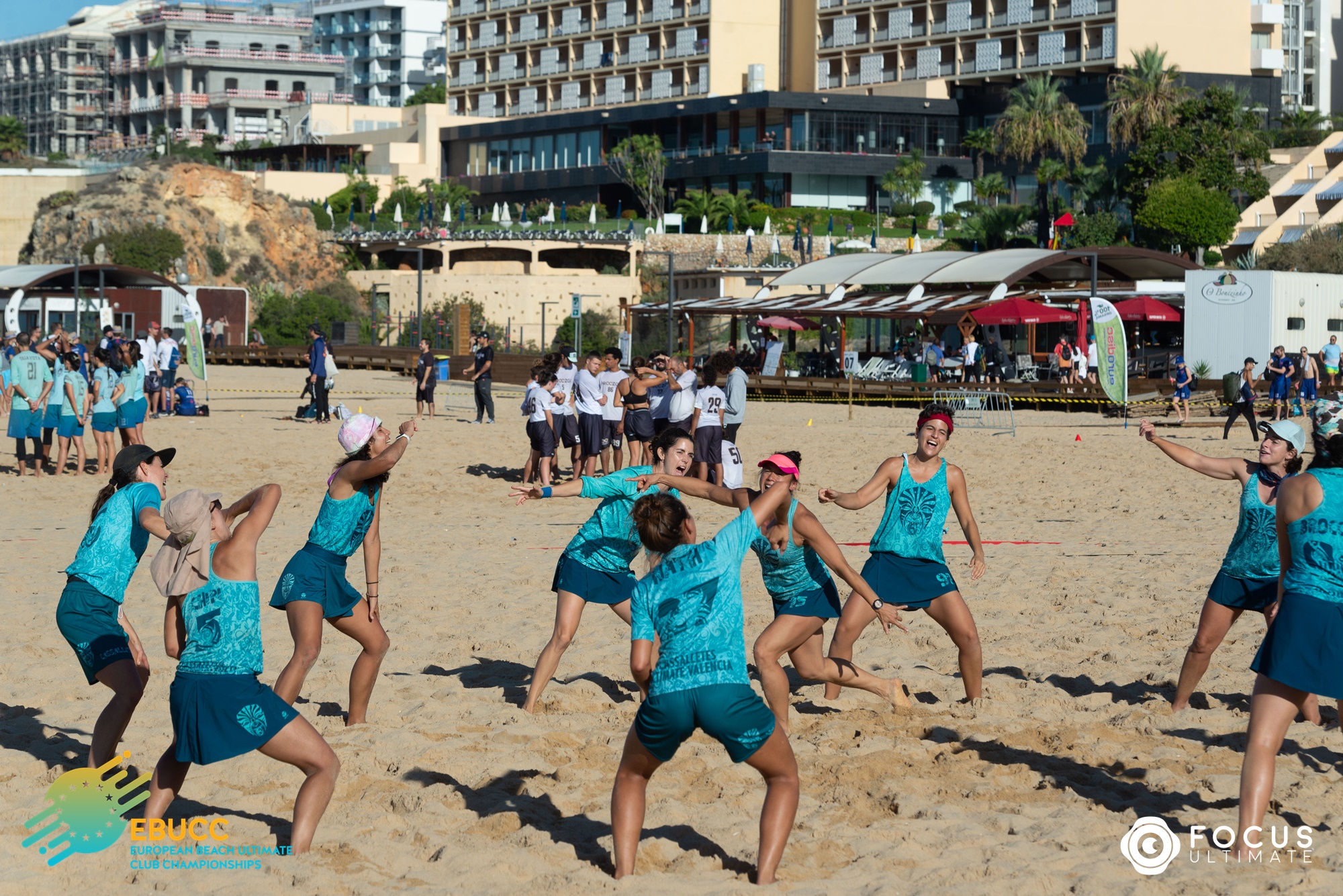 In the Women's Pool A was another team from Spain, Cassalletes. This team is fierce, to say the least. What can only be described as a Haka that is uniquely theirs, the way they support and hype each other up is a sight to behold. Cassalletes brought this energy to each of their matches, putting on an absolute Ultimate clinic by beating the other teams in Pool A by rallying up a 29-point differential across their 3 matches of the day.
MIXED DIVISION
And finally, the Mixed division. All teams gave fantastic performances that highlighted the importance of teamwork. Hailing from Pool A was Jogo Bonito (DEU). Each match they had was a wonderful grind – the layouts, the disc movement, the long drawn-out points, Jogo Bonito experienced it all. They took on the likes of CUS Padova Gold (ITA), a matchup that certainly did not disappoint. Both teams fought each other to a stalemate until the 38th minute, wherein Jogo Bonito was finally able to break free and take the 13-10 win.
From Pool C is Guayota (ESP), another team that should be on everyone's radar. They showed that Ultimate is alive and well in Spain, defeating teams like Freezgo (FRA) 11-8, Pier Pressure (ITA) 13-4, and FucZH (CHE) 13-3. But their most difficult hurdle came from F.U.J. (CZE). The whole match was a battle of wits, with each team going shot for shot, layout for layout. The match was dead even up to the 45-minute time cap, but with their "Keep grindin'" attitude, Guayota took the universe point and the W, ending 4-0 on the day.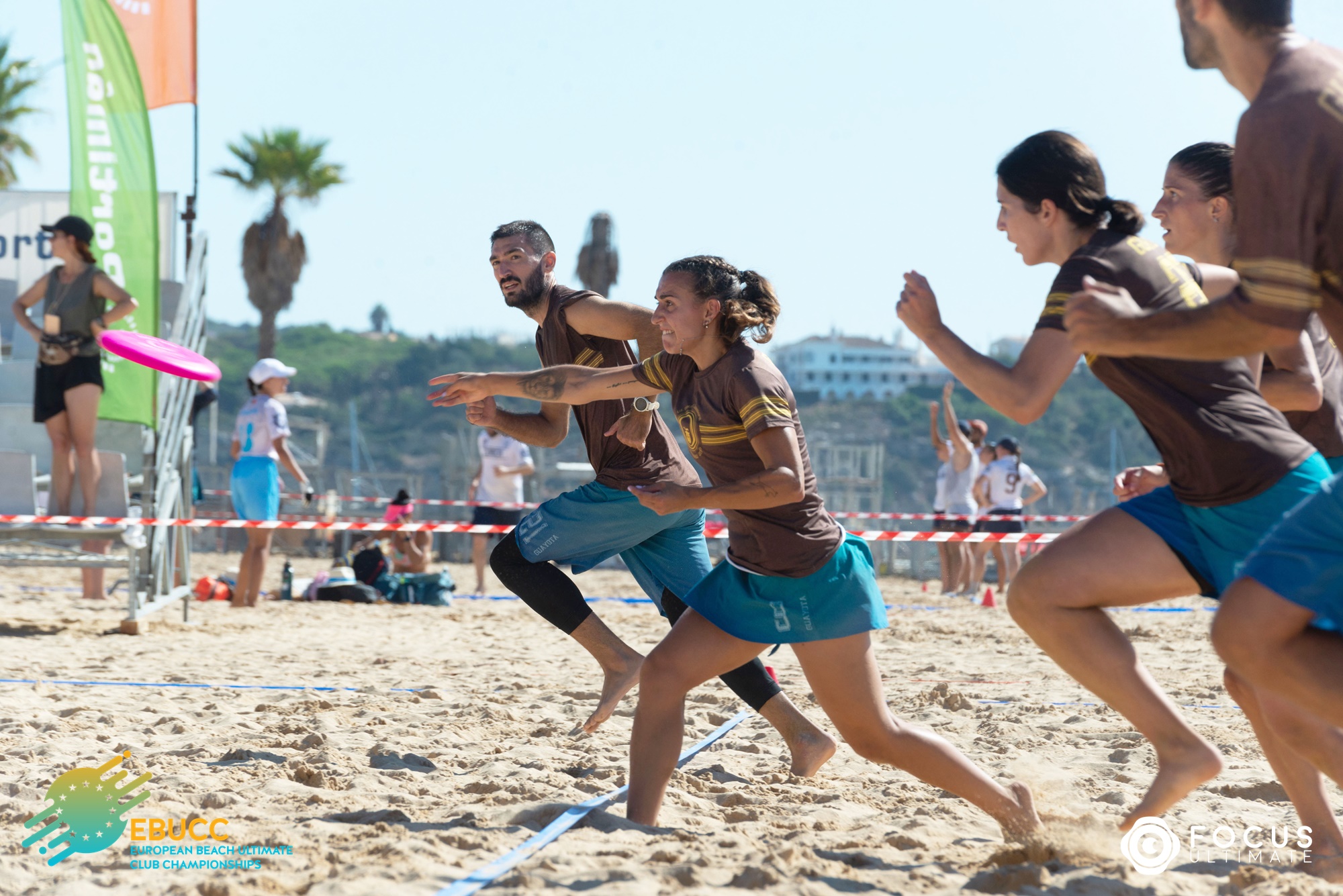 The action doesn't stop here. Day 2 is just around the corner with matches starting at 08:45 GMT+1. Don't miss a second of the high-flying action by staying up-to-date on the scores, stats, and standings here.