The opening day of the championship was filled with emotions thanks to the magnificent gameplay displayed by the different teams, as well as the challenging weather conditions. The mixed teams kicked off the day with some fantastic matches, varying in difficulty for some of them. We particularly remember the closely contested match between UFA and Tchac, which ended in an "universe point"!
The second round of matches, this time in the open category, was interrupted due to heavy downpours that hit the beach. Lightning, thunderstorms… The teams had to halt their games and seek shelter under the tents for nearly an hour and a half before resuming at 12. Despite the break, the teams delivered beautiful matches, with some being highly competitive and others less so.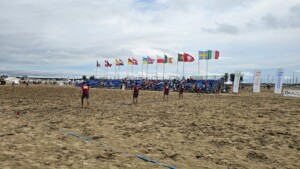 At noon, it was the women's teams' turn to take the field. They played matches with wider score gaps, notably the match where the Yaka (a French team) took a commanding 13-3 lead against FHL, thanks to an excellent start in both defense and offense.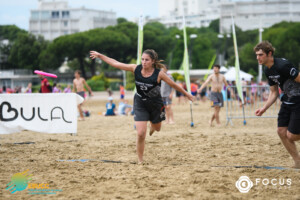 The fourth round was marked by much closer mixed matches than in the morning, including a universe point victory for the Ukrainian team against Beefire from Italy, in a highly intense match. The French teams Tchac and RFO Mixed secured impressive victories, as did the Spanish teams Discterics, Diskolaris, and Corocotta, who offered intense and captivating matches to the spectators. Additionally, we witnessed three superb matches in the women's division with several Callahans.
During the fifth round, our open teams returned to the field with great determination. The match between the Magic (a French team) and the Sharks from Spain ended in an "universe point" with a score of 11-10 in favor of the Magic. We also witnessed a fantastic showdown between the Mighty Hucks (Great Britain) and Friselis, with incredible defenses and beautiful gameplay from both sides, broadcast live on Ulti.tv.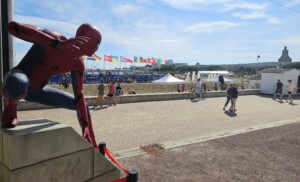 At 3 p.m., we had the opportunity to witness six matches featuring women's teams from France, Italy, Switzerland, and Denmark. The mixed teams then followed with nine highly interesting matches, showcasing a diversity of skill levels but always with a strong intensity and a will to win, regardless of the score. A special mention goes to the match that also ended in an "universe point" between RFO from France and Corocotta from Spain, with a victory for Corocotta.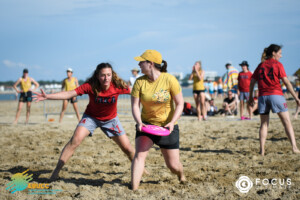 Finally, the late afternoon was filled with highly intense matches despite the fatigue accumulated from this long day, whether in the women's, open, or mixed divisions! We particularly remember a beautiful match between the Guayota from Spain (former champions) and the 33tours from France, who delivered an incredible performance to secure a 13-8 victory against the former champions!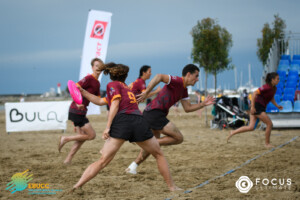 This day was full of twists and turns, featuring a maximum of outstanding plays and enjoyment! The morning's inclement weather gave way to bright sunshine in the late afternoon, setting a positive tone for the second day of the championship.